INTERVIEW // SARAH WALK
DAYTON, OHIO
INTRODUCTION
Interview by Sachin Khona // July 2017
Reading time: 15 mins
Bio Photo of Sarah: Brea Marie of The Wayfarers
Sarah Walk started shooting weddings 6 years ago but a fruitful summer of portrait sessions fueled Sarah's personal creativity. She now photographs more as a hobby and a passion alongside being a private piano teacher.
Sarah's style is honest and deeply emotive and we're honoured to feature her work here at ARC.  Sarah tell us about realising the importance of change, having a thirst for adventure and finding beauty in the every day. Thank you for sharing with us Sarah.
PHOTOGRAPHY WORK & PRACTICES
---
WHEN DID YOU KNOW YOU WANTED TO BE A PHOTOGRAPHER?
I'm not sure there ever was a specific moment that I decided I wanted to "be a photographer." Ever since I can remember, I've always been all about the arts in every form—dance, painting, drawing, writing, music, photography. Photography as a career was just one of those things that fell into my lap and grew on it's own a bit. It's still more of a hobby/passion than a real avenue of income and I don't mind it that way…I like feeling in control of it and being able to avoid the burnout.

WHERE IS HOME FOR YOU AND WHERE DO YOU WORK? HAVE YOU ALWAYS LIVED THERE OR WAS THERE A CONSCIOUS CHOICE TO MOVE THERE?
My home is with my husband Josh, in the arts district of downtown Dayton, Ohio. I'm a private piano teacher by afternoon/evening, so our apartment is where all my work of various kinds is done. We've both always lived around the area! We grew up here together and both share a mutual distaste for midwestern life. A move is in our near future…the west coast calls to us, maybe Colorado, California or even overseas for a bit (hardcore dream right there).
DOES YOUR LOCATION INFLUENCE YOUR WORK in any way?
I think locations and environments always influence your art, no matter if it's a conscious thing or not. However, I can't say that I could pinpoint anything about Ohio in particular that influences me or my work.
DO YOU HAVE A DESIGNATED WORKSPACE OR OFFICE?
I have a desk, but other than that I don't venture very far for non-shooting work. I do appreciate the occasional coffee shop office, but unfortunately it would be a little awkward to carry my iMac over with me.
Do you feel there was a turning point, monumental time, or series of events in your life that you were felt as though you were on the right path in regards to your (photography) career that brought you to where you are now?
In regards to portrait photography specifically…yes. I started out photographing weddings, mainly. But as much as I loved them, I couldn't seem to connect with many couples that valued my work. Ohio is one of the cheapest states to live in, as well as one of the least artsy, so my price point and style just weren't working for many people. I was struggling to find clients and overall feeling pretty dejected. Summer of 2015 brought a few portrait sessions for fun, and it was then that something finally clicked. I had, of course, done portraits before, but I was so caught up in the wedding photography world that I brushed them off as "side gigs" that were mainly there to fuel personal creativity. It was during those portrait sessions of summer 2015 where I fell in love with my own work for the first time.
I was so proud of the images my models and I created. They had emotion. Feeling. Passion.
I knew I had to follow this path, so a few weeks later, I randomly messaged a handful of beautiful girls (all strangers to me!) on Instagram, asking if I could do some portraits of them later that year. To my surprise, all of them agreed and thus began my portrait work. Words cannot express how thankful I am for those girls and their trust in me.
Can you describe your style via a series of 10 photos that you feel define the work you've done in the last year and where possible describe why each one was included.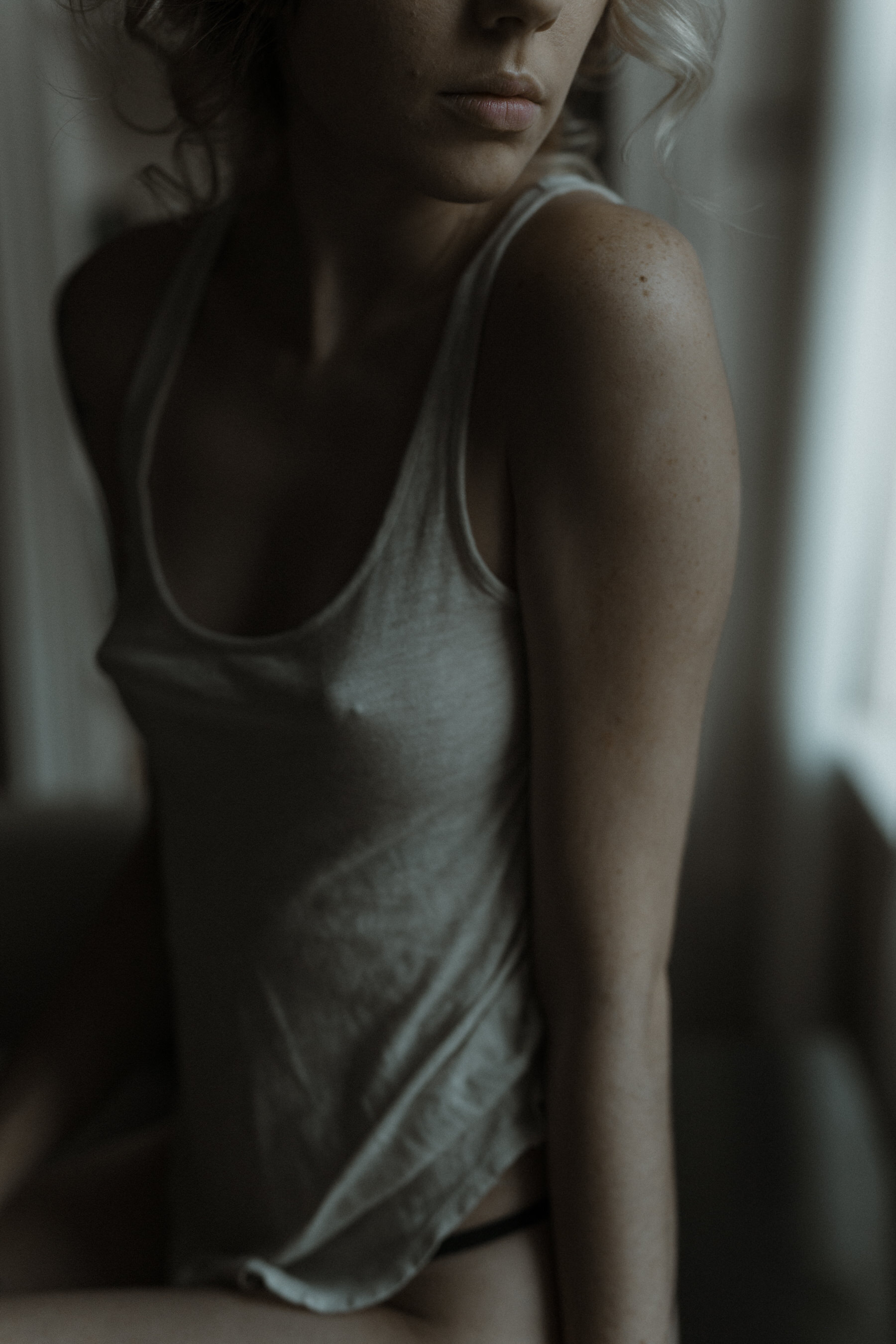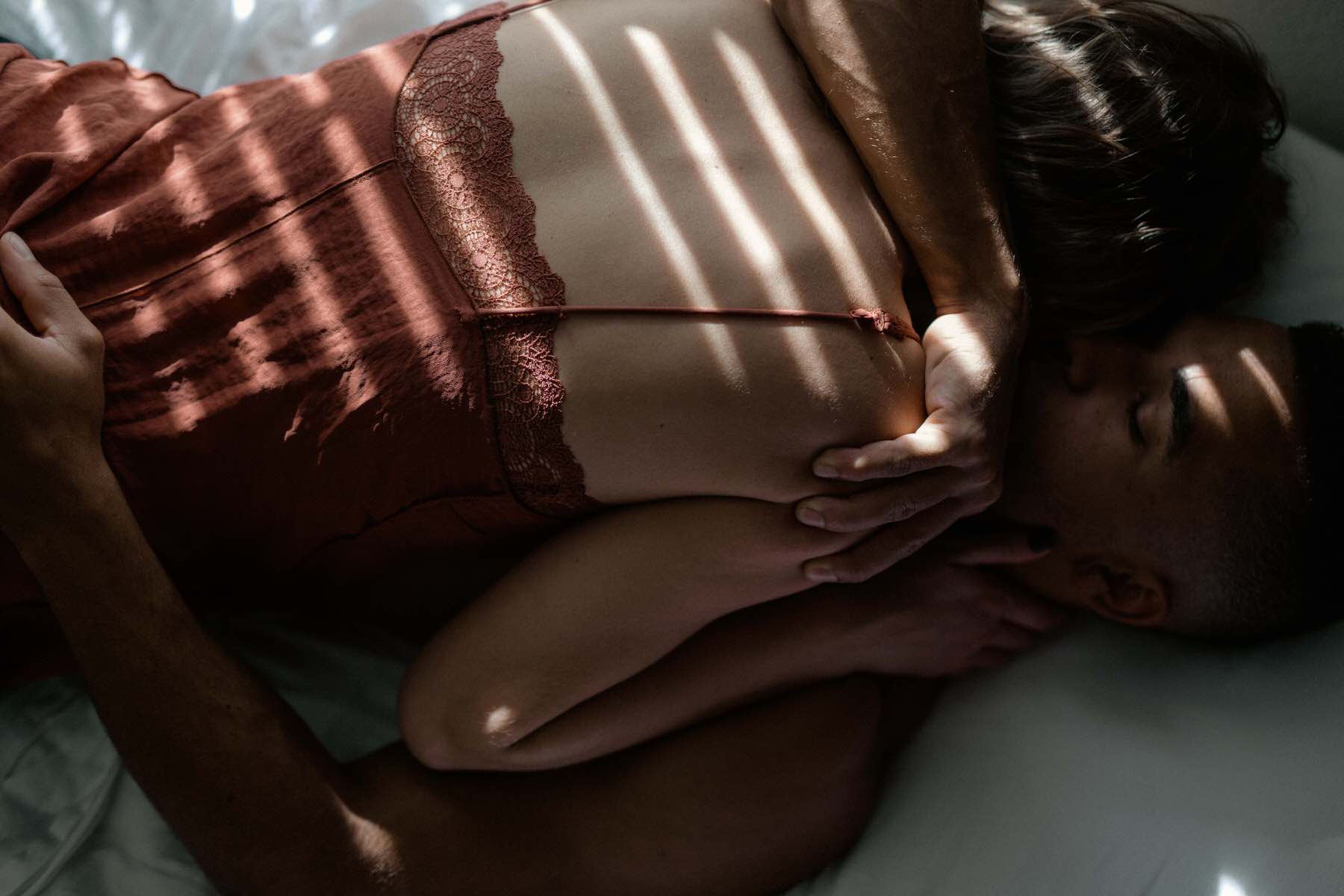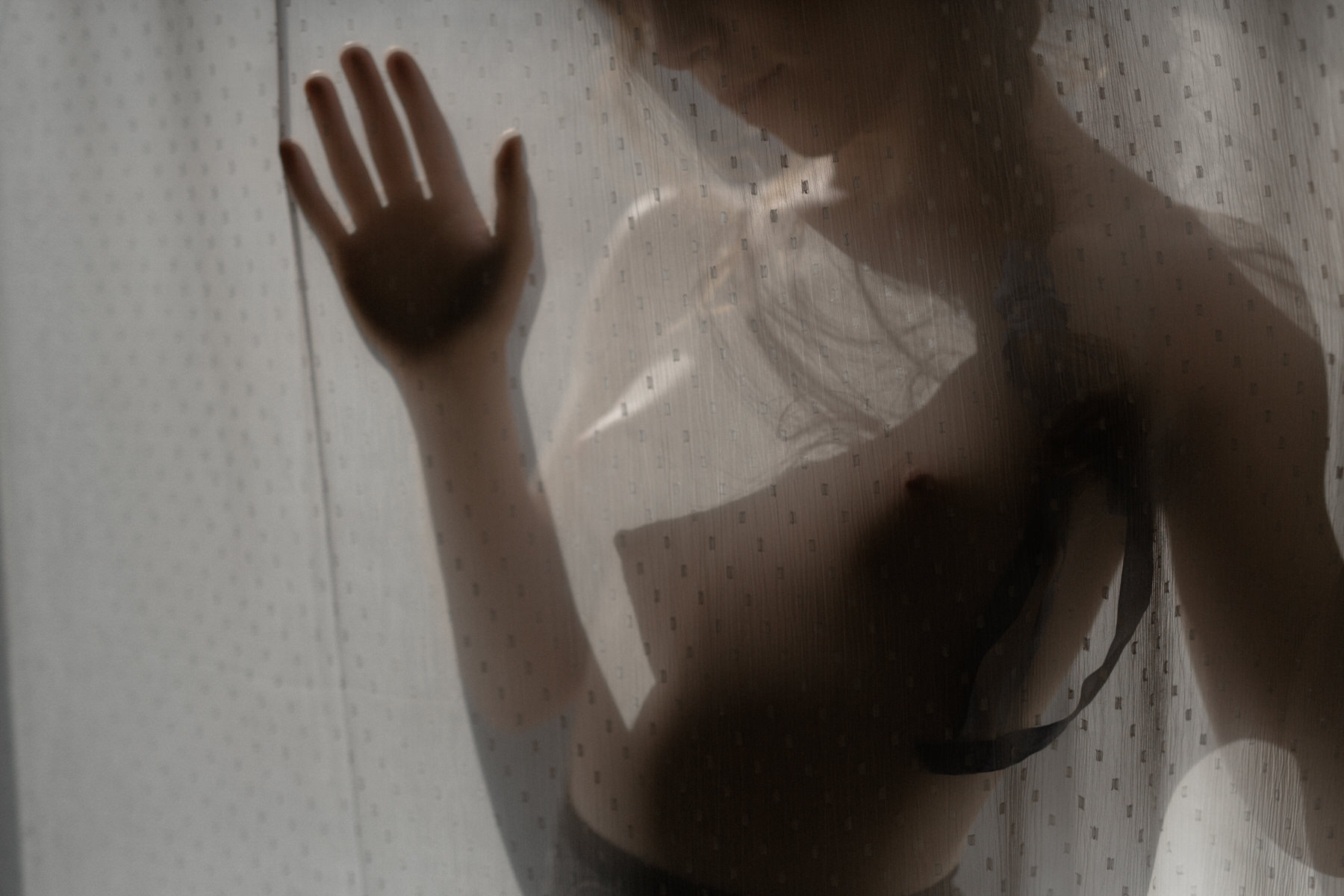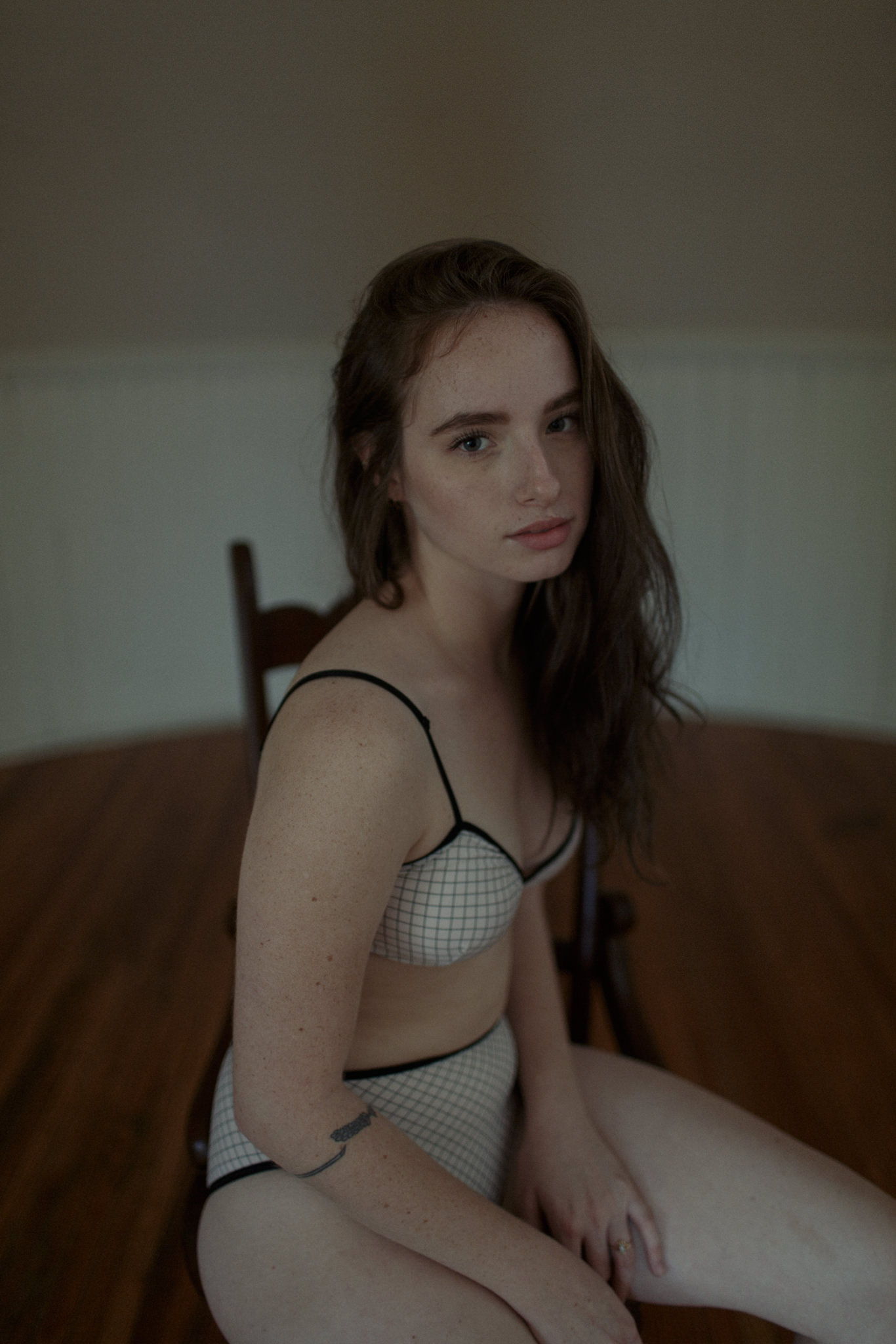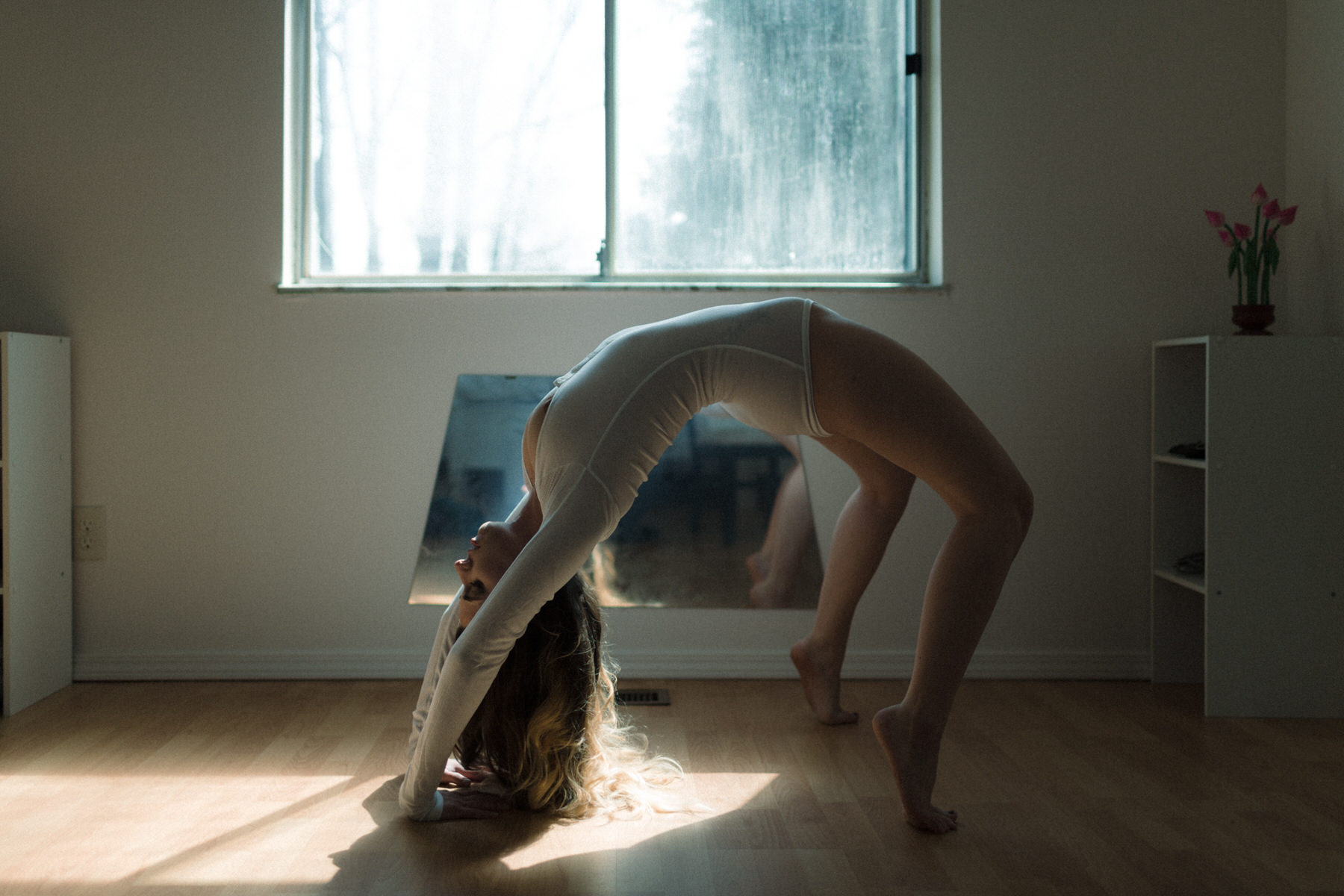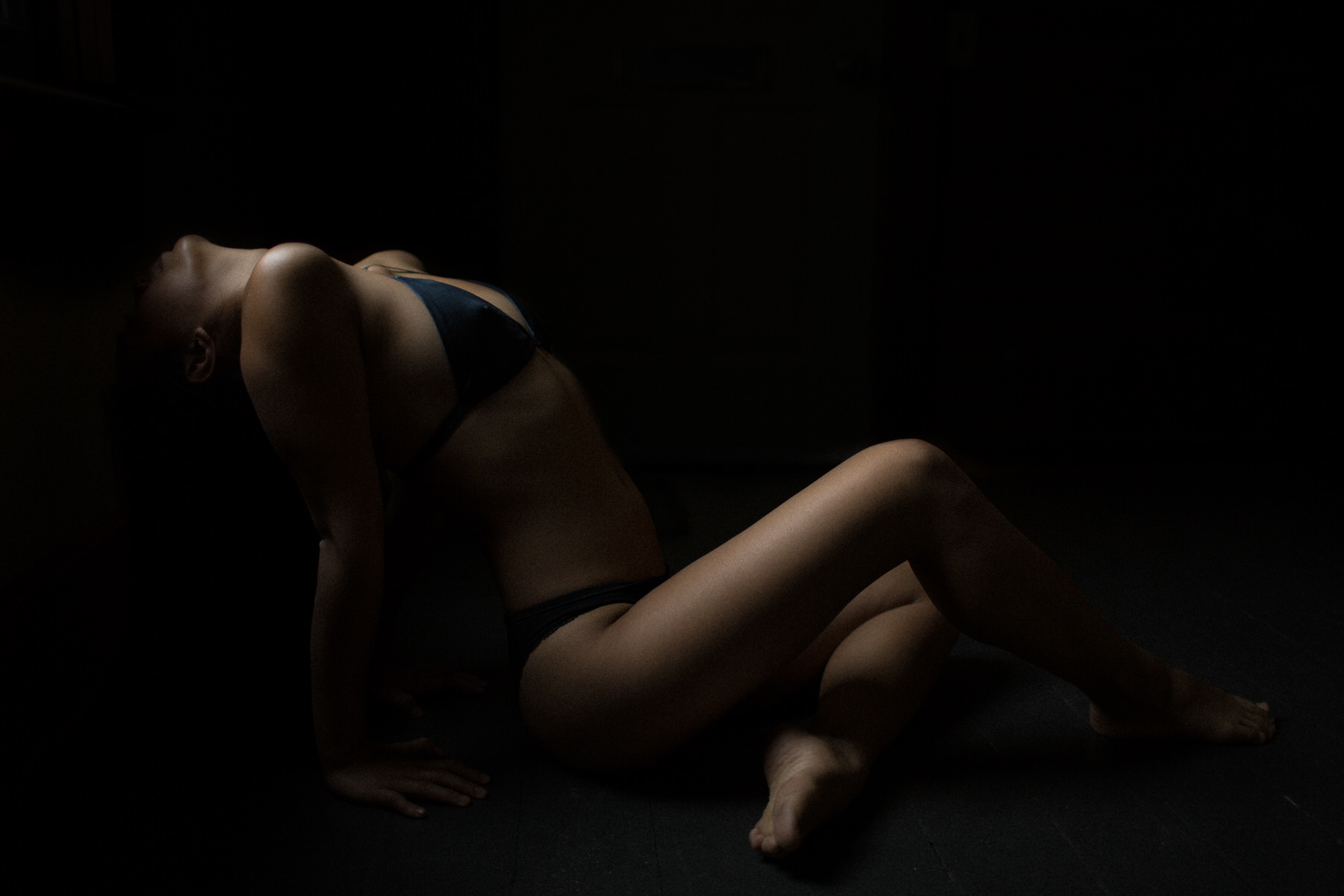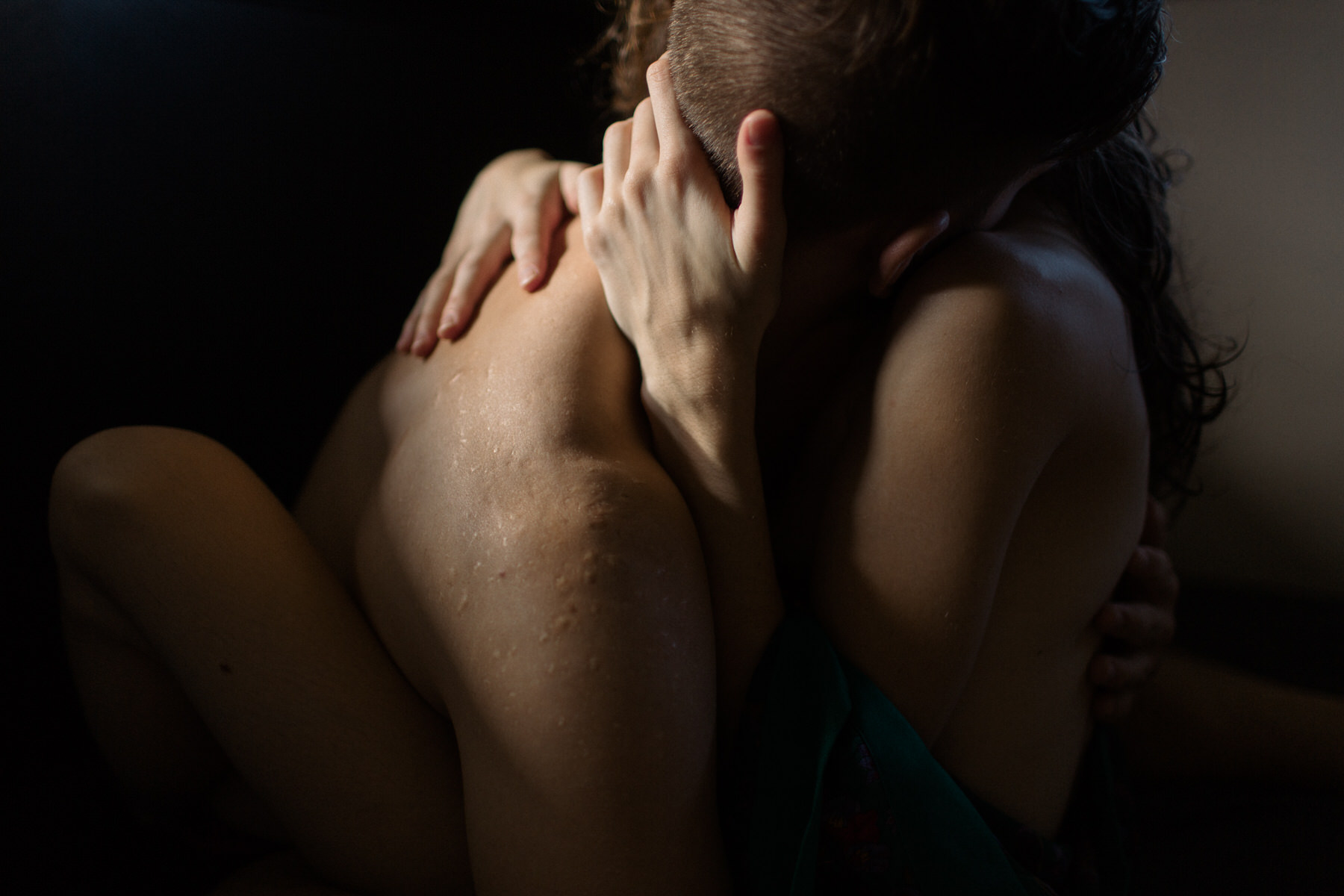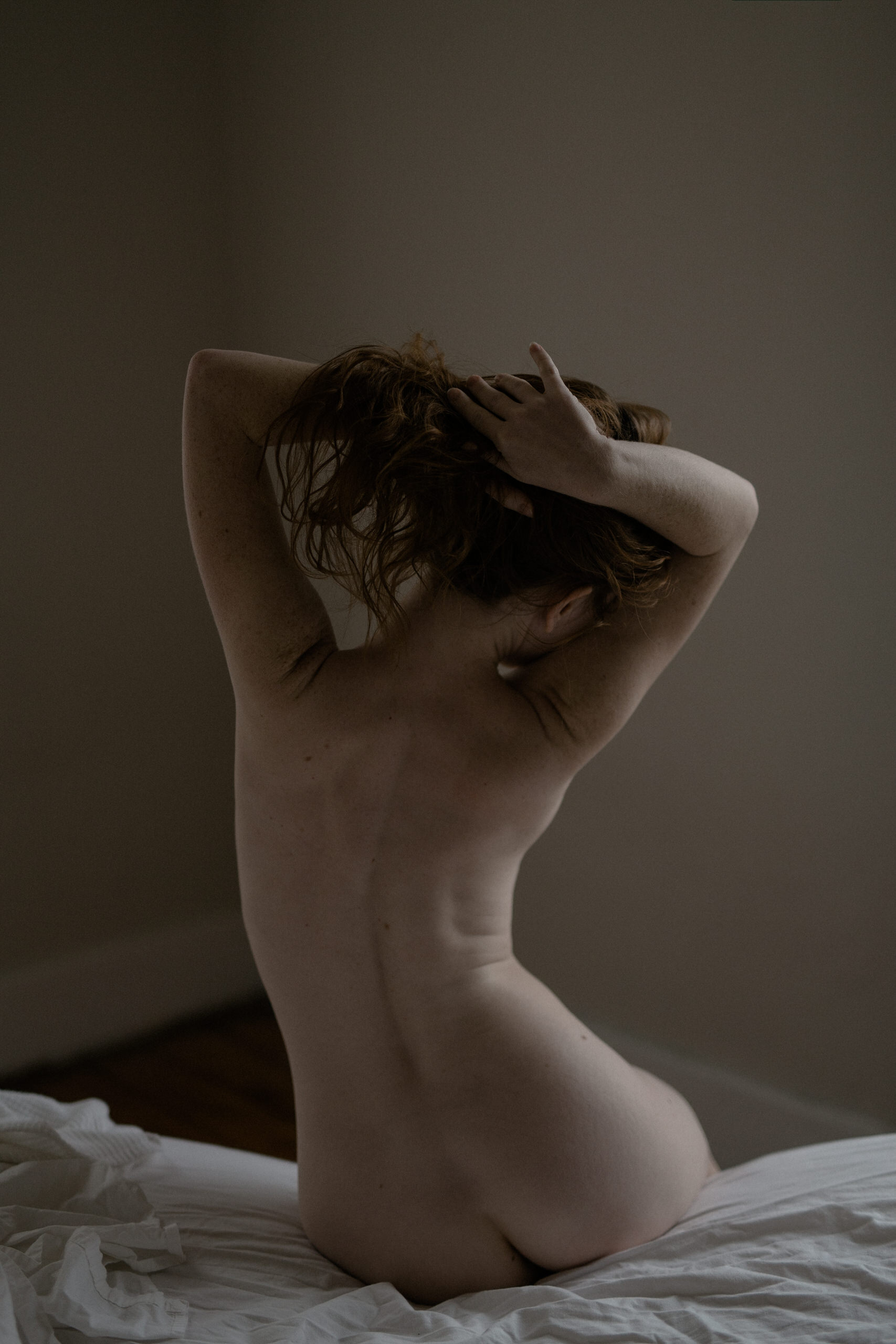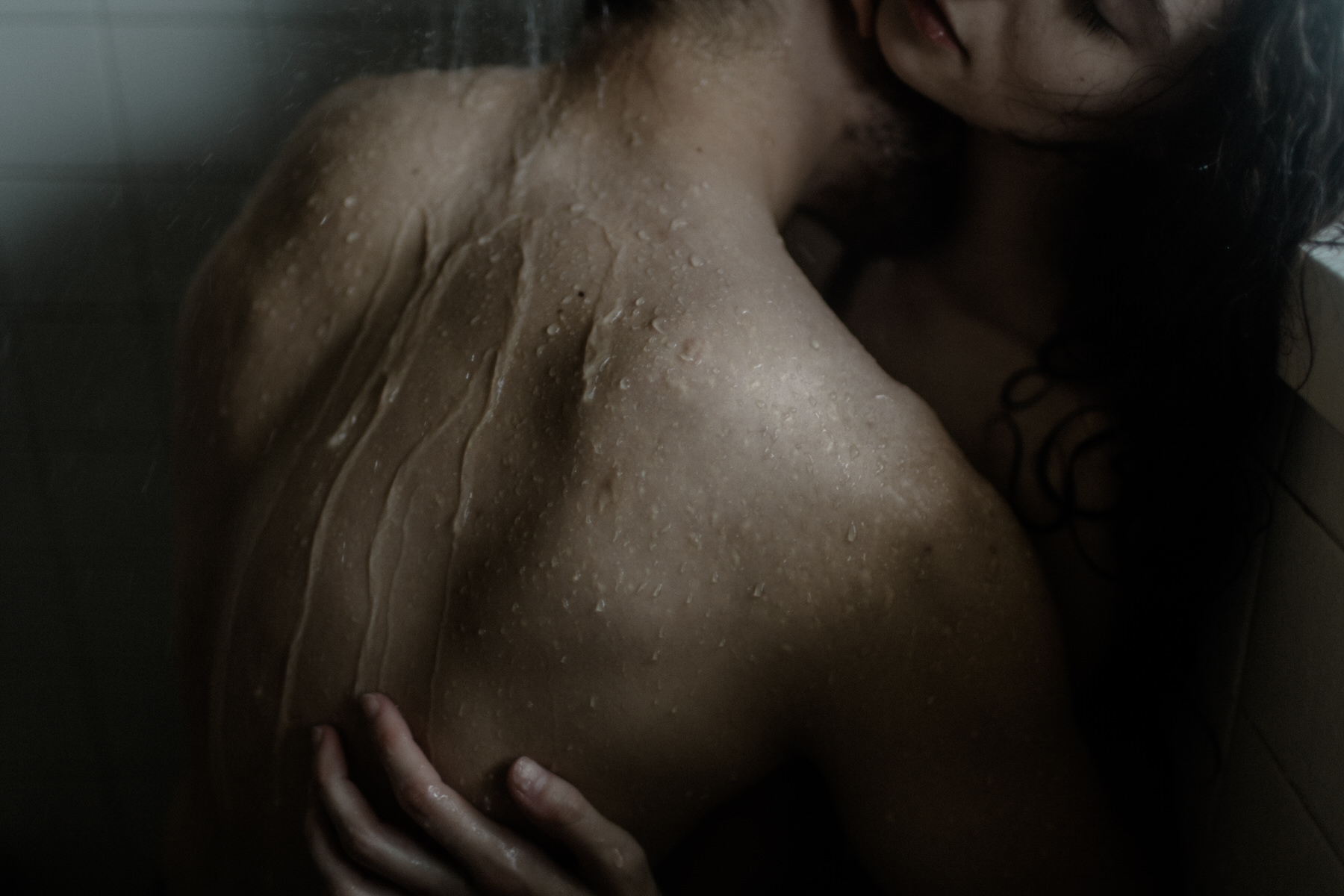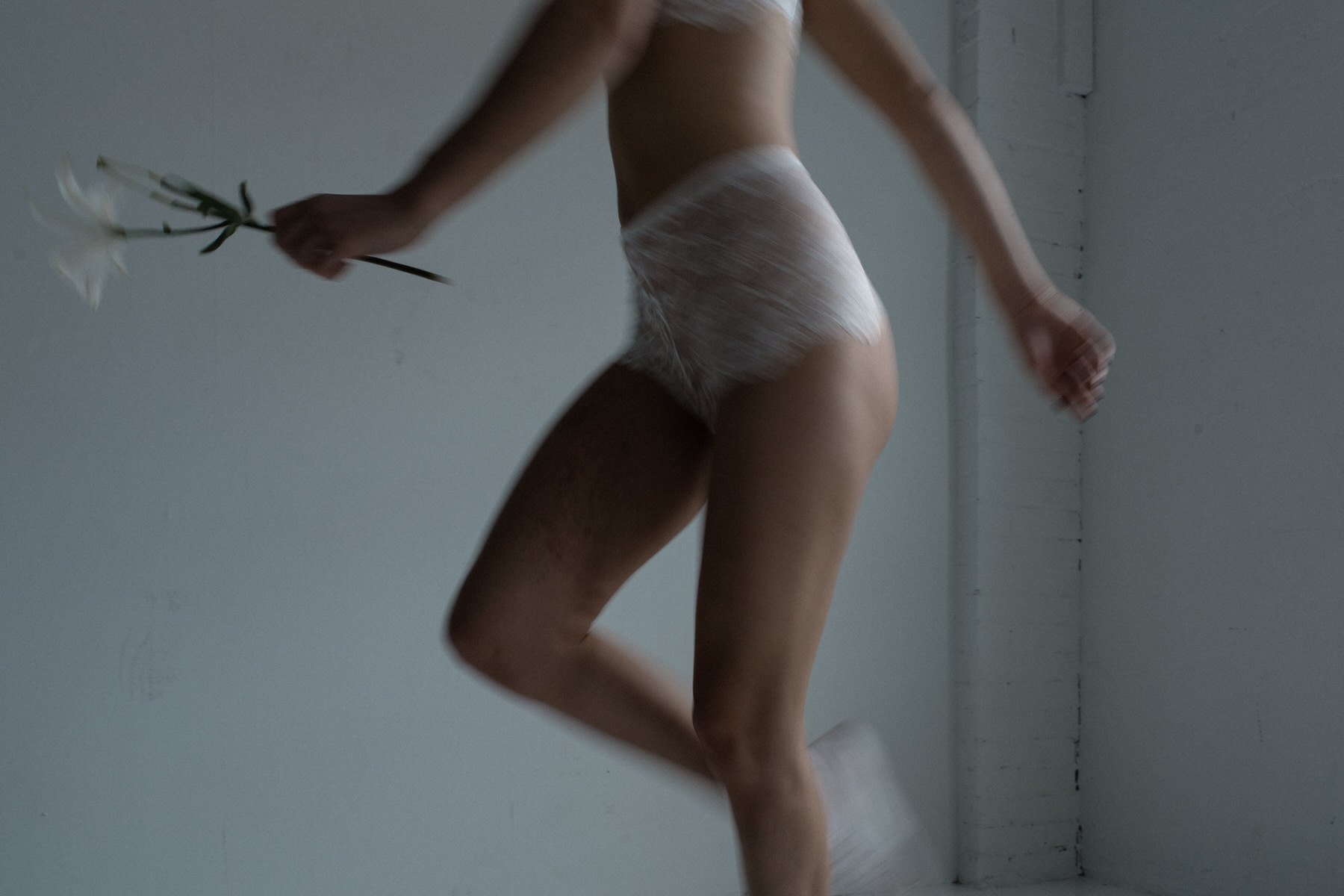 CREATIVITY
---
WHAT INSPIRES AND MOTIVATES YOU TO CREATE?
Beauty. I know, vague, and subjective.
I'll try to elaborate.
For me, specifics can include beauty in the form of a human body, or maybe the way the light plays with something, or even from a particular space around me…indoors or out. Upon seeing those things, I often feel the need to create something with them or out of them.
DO YOU DO ANY CREATIVE TRAINING OUTSIDE OF YOUR WORK?
I've attended Field Trip and I do some wall weavings for fun! I'd love to explore more avenues of creativity, however. Maybe pottery, designing/making photo frames, shooting and developing my own film, just to name a few. For me, variety keeps the creativity growing and flowing.
WHEN YOU GET STUCK CREATIVELY, WHAT IS THE FIRST THING YOU DO TO GET UNSTUCK?
I'm an introvert, so being in a quiet place that has no distractions and if possible, some beautiful scenery, centers me. When that isn't accessible I usually just ignore it and distract myself with other creatively unrelated areas of life, like my weavings.
It's okay to be still and wait for inspiration to come to you, you don't always have to go to it.
HOW DO YOU KNOW WHEN A PIECE OF YOUR WORK IS FINISHED AND NEEDS NO ADDITIONAL WORK?
I often feel that perfectionism is a curse. I'm pretty sure I've never looked at a photograph I've taken and thought, "there is nothing else I can do to improve this." However, on a more attainable level, I'll usually stop processing a photo when the tones match the mood.
Describe a photograph burned in your memory that you never took but wish you had.
Honestly, so many throughout my husband's and my relationship. We're both emotional people, and I wish I could just blink and visibly capture everything we feel together. It would be such a legacy and testimony of love both for us and for future generations.
ARE THERE ANY KEY LESSONS IN YOUR CAREER THAT YOU'D LIKE TO SHARE? OR  BEST PIECE OF CAREER ADVICE YOU WERE EVER GIVEN?
Learn the rules so you can break them. Understand composition, the way light works, and how to use your camera manually, but then go on to use that understanding as a foundation, not as a box. I used to always feel so restricted after reading photography books in the library or clicking through photo blogs.
As soon as I gave those rules a secondary position in my head and instead focused on shooting what I felt, my photos finally began to develop into something representative of me and deeply reflective of my heart.
CAN YOU SHARE ONE CREATIVE TIP THAT YOU USE WHEN YOU ARE WORKING?
I try desperately to let emotion flow through me and into my art, channeling whatever it is I'm feeling or whatever it is my subject is feeling in order to capture its essence. I'm still working on developing that skill, but it's a main point of focus during each and every session.
Don't be afraid to feel.
CAN YOU SHARE AN IMAGE THAT YOU'RE PARTICULARLY PROUD OF AND TELL US WHY?
This image is one of those images that had so many factors fighting its creation. I'm proud of it because it shows what perseverance and a positive headspace can achieve. I had the opportunity to photograph a group of incredible dancers last summer, and what was originally a 3-4 subject, 2 hour shoot, turned into a 13 subject 2 hour shoot. I was thankful for all the participants, but it was a little stressful trying to fit everyone in. I wasn't getting enough time with each girl to really understand them, and it was leaving me a little lacking. This portrait was one of the last of the shoot. We were over our time limit, all the other girls had left, the day had gotten really stormy leaving very little light (keep in mind I'm photographing very mobile subjects!), I was sweating buckets from running all over the place for two hours trying to compose moving subjects in frame, and also feeling frustrated, having not really captured what I had wanted -for various reasons of my own, completely unrelated to any of the girls. Anyways, Maddie started dancing and I instantly had tears in my eyes. I had asked her to put into dance the emotion she was feeling that day, and when she did, we both just fell silent. It was one of those moments I'll never forget.
She was so immersed in her art, telling me her story and letting herself just feel. I stopped thinking about everything that hadn't gone according to plan and just kept pressing the shutter in awe. It was a mesmerizing experience, and one that I have tried to learn from in order to incorporate emotion into my work thereafter.
PERSONAL
---
WHAT ARE THE 3 MOST IMPORTANT THINGS IN YOUR LIFE?
My faith, my husband, and my family. Cliché, but nothing else would be more true.
DO YOU WORK IN ANY OTHER FIELDS OF BUSINESS?
Yes! I teach private piano lessons, which take up most of my days.
CAN YOU SHARE A BIT ABOUT YOUR DAILY SCHEDULE / ROUTINES?
I have a year pass to a Barre workout place in my area, which has been fantastic for me because it actually gets me moving in the morning. Without it, I'd fight to get out of bed before 10 a.m. After I get home from my workout, I'll usually tackle a few things on my to-do list before teaching for the rest of the afternoon/evening. Pretty simple, really. I make sure to take one day off of teaching every week, and so my Wednesdays look a little different. I'll often schedule my photoshoots that day, get the bulk of my editing done, or do some self-care things like weaving or Netflix or coffee with friends. Evenings in general are pretty boring, my husband doesn't usually get home from school till around 10:30, so I typically just tackle more to-do things before he gets home, and make sure there's food available for that night and the next day's lunches.
WHAT WITHIN YOUR WORK DO YOU NOT LIKE TO DO AND WHY? DO YOU ACHIEVE "WORK/LIFE BALANCE"?
I love shooting, and I love editing up to about 20 of my favorite images. After that, it just feels like work. I'm working on finding that balance, I can feel it getting pretty close.
WHICH PERSON DO YOU RESPECT MOST IN YOUR LIFE?
My mama. She's continued to raise 6 kids (all my biological younger siblings) on one, low, income while remaining the most self-sacrificial, loving, grateful, and kind person I know. I still don't know how she does it. She's my hero.
WHAT WAS YOUR HARDEST / most PAINFUL CREATIVE FAILURE TO DEAL WITH AND WHAT DID IT TEACH YOU?
Honestly, I think I'm still fighting this. I started photographing weddings 6 years ago with the goal of being a wedding photographer, and I've watched so many friends who started at the same time or after become more successful (in booking/monetary terms) than I. I never was very good at marketing, so I know that had something to do with it, but it was and sometimes is still frustrating…even after coming to the realization that my true passion lies in portraiture. I think I've learned to let go of things that I thought I wanted, while realizing that dreams and passions can change. Just because you said you wanted to be an ice skater when you were 5 doesn't mean that was actually your true calling.
Just because you started out as a wedding photographer when you were 23 doesn't mean you have to go be one for the rest of your life. It's ok to change, and it's ok to realize that your heart isn't in it anymore. Let it go. Find joy in another adventure.

WHAT WILL YOU BE DOING (OR HOPE TO BE DOING) 5/10 YEARS FROM NOW?
In 5 years, I hope to be well on our way to building a long-term home in a new community. In 10 years, I hope to have a little one or two running around. As far as my creative future, I'm open to anything. I love change and I love spontaneity. It would be a dream to do editorials and make a respectable living, but that's a newish dream that could change at any time ;)
THE CORE // FOUNDATION
---
IF YOU COULD CHANGE ONE ASPECT OF OUR SOCIETY THROUGH YOUR WORK, WHAT WOULD IT BE?
I'd love for more people to find themselves truly, honestly, utterly beautiful through my portraits.
A great portrait transcends race, gender, orientation, religion, and time, and I'd be happy just making beautiful images of humans, making them fall in love with themselves for the first, second, or hundredth time.
IF YOU WERE NO LONGER ABLE TO USE A CAMERA, HOW ELSE WOULD YOU EXPRESS YOUR CREATIVITY?
Dance, hands down.
ARE THERE ANY MANTRAS THAT YOU LIVE BY?
It's difficult to recall any that I'm consciously aware of on a daily basis, but ultimately I find  myself thinking most about loving and accepting myself, never assuming the worst about others, treating everyone as equal, and finding beauty in the everyday.

IF YOU ONLY HAD 24 HOURS TO LIVE, HOW WOULD YOU SPEND YOUR DAY?
I'm crying even thinking about this possibility. I'd have whatever I did documented by photo and video. I'd spend half of the day with my family and a couple of close friends, and the other half in my husband's arms…he's where I feel most at peace.
HAVE YOU EVER DOUBTED YOUR TALENT? IF SO, HOW DID YOU WORK THROUGH YOUR DOUBT?
Always. I work through it by actively fleshing out the root of the doubt. This is usually brought about by journaling, thinking, crying, talking. All doubt stems from something, and in order to fix the symptom, you have to find the cause.
QUICK FIRE QUESTIONS
---
Your favourite podcast(s)
Sounds Good with Branden Harvey, TED Radio Hour
Fav Music // Share a (Spotify) playlist
Lush + Atmospheric playlist
Film / Documentary that is a must watch?
Arrival, Interstellar, and The Revenant
vA website you regularly follow?
Does FreePeople.com count? ;)
Last place you travelled?
Yosemite
Favourite photographer or photo project outside of your genre?
Do you have a favourite poem or quote?
I don't have a favorite, but I do love anything by Rupi Kaur.
Favourite drink?
Anything with champagne.
Favourite TED talk:
Last gallery / exhibit you visited
A creative you'd love to see interviewed on ARC?
THANK YOU, SARAH!
You can see more of Sarah Walk's work here // Web
And connect on social here // Facebook // Instagram
UP NEXT …
---
Stay tuned for an interview next with New Zealand based photographer Niki Boon.

JOIN US AT THE EXPERIENCE
---
Our next photography conference in Vancouver, BC is this October 17-19, 2017.
Join us for an out-of-the box experience with passionate photographers & creatives including food trucks, city adventures, a huge party and more …
Learn more here >> The Experience // ARC
Video by Hello Tomorrow >> ARC 2016 Highlights
CONNECT WITH ARC
---
 Stay connected with us via the following channels for updates + discussions:
Facebook // Twitter // Instagram
Become An ARC Member
Sign up to get priority access to our library of interviews, video content, explore membership options and more.